PaneoVR Immersive Video Training Toolkit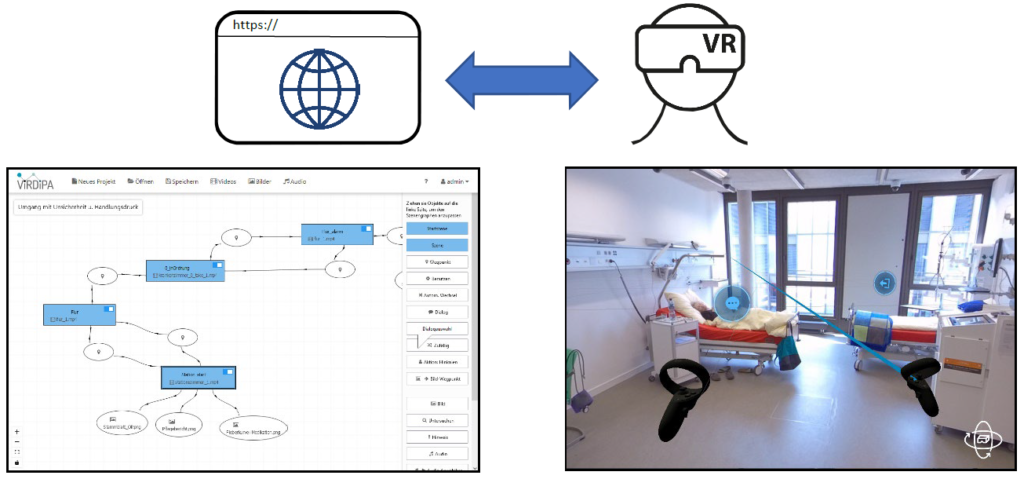 The authoring tool created as part of the ViRDiPA research project offers the possibility to easily combine recorded 360° videos to complex scenarios for use on VR glasses. The results can range from simple VR tours to specialised training scenarios.
For this purpose, PaneoVR consists of two connected applications, a web application that can be used in the web browser to manage/create scenarios and a VR app for use on VR glasses.
The VR scenarios created are based on the composition of various recorded 360° videos that, when linked together, create a logical connection, similar to a room tour (e.g. I am standing in a room, click on the door and end up in the hallway – two recorded videos were thus linked here).
This basic idea is extended by different types of interaction, such as talking to people or using objects. However, all these different interaction possibilities that can be carried out later in the virtual space are usually based on the fact that there is a corresponding video that depicts the associated reaction.
In addition, the tool offers the possibility of integrating separate images and sound files alongside the linking of videos in order to enrich the recorded video with further content afterwards.
The prototypes language is currently limited to german. To fully use PaneoVR, a Meta Quest (any version) is required. The prototype is freely accessible, but features such as the forgot password function are not functional. Please pay attention to your user data when creating an account. Register yourself inside the webapp and use this login inside the meta quest app as well.
The PaneoVR app is available in the Meta/Oculus App Lab and accessible via the following links. PaneoVR Player is a sub version of the full app and limited to viewing/using content while the full app also supports editing scenarios.
Responsible Investigators
Update Prototype v1.1 (02.05.23)
PaneoVR Player noch funktionsfähig, aber outdated. Verschwindet mit dem nächsten Update.
Menüflächen und andere Elemente grafisch überarbeitet
Nicht mehr unterstützter "Komplexer" Modus ohne WebApp Anbindung wurde entfernt
Ladebildschirme für weichere Übergänge integriert
Szenarioliste wird nicht mehr doppelt geladen
Hinweise und Auswahlfelder in Szenarien rotieren nun mit der Blickrichtung
Anzeige von Bildern verbessert
JPG Bilder werden korrekt geladen
Interaktionsstrahlen der Hände auf einen aktiven Strahl reduziert
Handmodelle verbessert
Controller geben nun Vibrationsfeedback bei Buttons und anderen Elementen
Performance Verbesserungen
PaneoVR WebApp
Erlaubte Dateigröße für hochgeladene Videos auf 20GB angehoben
Ausblick für Update 1.2
Multiplayer Funktionalität wird integriert